More than just a Physical Ticker
Have TickrMeter flash, change color, or beep when triggering your set alarm.
Display Your Top - Or worst performers
Have TickrMeter automatically show you your top gainer or biggest looser of the day, week or year.
Track, and showcase your gains (or losses)
Track your own positions and display your portfolio gains on TickrMeter






Non-intrusive E-Paper Display
TickrMeter utilizes an E-Paper display to showcase your stocks.
E-Paper emits no light, and falls naturally into the surroundings like an framed picture.

And make TickrMeter cycle between tickers.
Modes available:

- Randomized
- Daily Top Performer
- Daily Worst Performer
- In order

Adjust ticker, update interval and more from your phone

So you can put it wherever want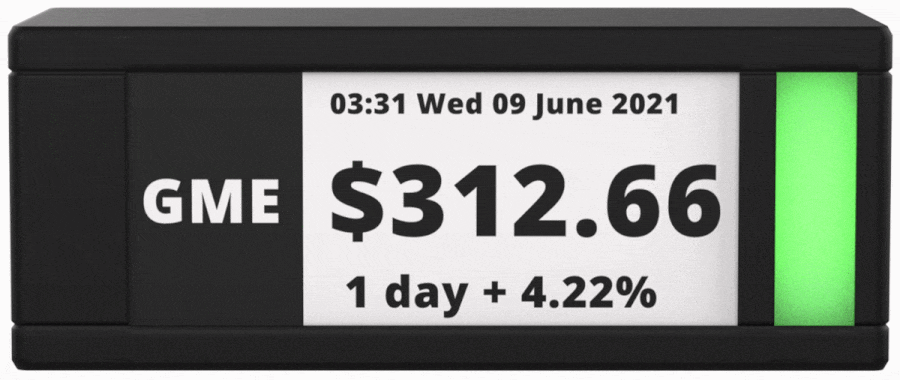 Non-intrusive E-Paper Display
TickrMeter uses an E-Paper display, which emits no light and won't disturb you.

Customizable Status light
Set the status display to show candle color, RSI, or as an alert. (more to come)
Build your portfolio - Literally
By stacking TickrMeter's you can build your up portfolio physically.
Wireless charging enables 10 units to charge on a single USB-C cable.
Can't Find Your Question? Email Us Hello@Tickrmeter.Com
Where do you get realtime data from?
We went all in and got best in class financial data by partnering with Polygon.io. TickrMeter shows the latest trades with a mean latency of only 20ms, orders of magnitude faster than most web tools.
Can i have several tickers on the same network?

Yes, as many as you want. You can even stack them and charge multiple units on a single cable.
We choose E-paper for the ticker because:
It emits no light, so it's not just "another screen" on your desk, it's more like a framed image (that can update)
It's also easily readable from an distance and from any angle unlike other displays of this size.

ETF'S and indexes are now available, commodities and a fix for mesh Wifi's plus a small bonus coming next week!

The new firmware and server update has been released!Your valuable emails, messages, and chats really gave us insight into what...

We are happy to announce that we have taken Christian Arnstedt & Jesper buch aboard as investors at a valuation of...

TICKRMETER IN DANISH SHARK TANK
It was a really cool experience to be in Danish Shark Tank. 🚀 Fantastic to see all the Sharks go into a bidding war against each other - and in the end, getting investments from our favorite Sharks Jesper Buch and Christian Arnstedt, at the same valuation as we asked for.💰

With the two sharks and 2 new co-founders on board, the ambition is to boost sales in Denmark and abroad. We are very grateful for the support we have received, and we look forward to the future.
// Markus, Marius and Kasper from TickrMeter